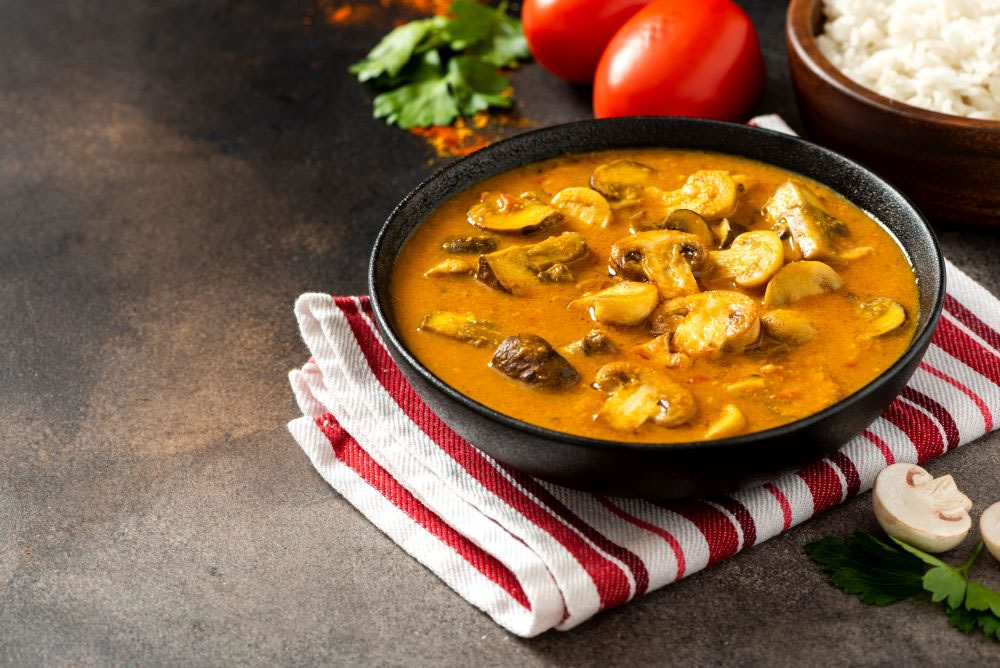 Ingredients:
Ingredients:
2 tbs olive oil
500g mushrooms, roughly chopped
2 garlic cloves, thinly sliced
5cm piece ginger, shredded
1 white onion, thinly sliced
1 long red chilli, thinly sliced
1 tsp ground turmeric
1 tsp ground fenugreek seeds
1 tsp black mustard seeds
1 1/2 tsp mild curry powder
500g ripe tomatoes, roughly chopped, or 400g can chopped tomatoes
1 tbs mango chutney
400ml can coconut milk
200g paneer, chopped
Cooked brown basmati rice, coriander leaves & lime wedges, to serve
Method:
Preheat the oven to 200°C.

Heat half the oil in a large flameproof casserole over medium heat. Add mushroom and cook for 5-8 minutes or until softened and golden. Add remaining 1 tbs oil, then garlic, ginger, onion, chilli and spices. Cook for a further 2 minutes, stirring continuously, or until the spices are toasted and fragrant, and the onion has softened. Add the tomato, mango chutney and coconut milk, and stir to combine. Season. Bring to a simmer, then scatter over paneer.

Transfer to the oven and cook for 30 minutes or until the paneer is a golden colour and the curry has thickened slightly.

Serve the curry with rice, coriander leaves and lime wedges.
(Recipe sourced and adapted from delicious.com.au)