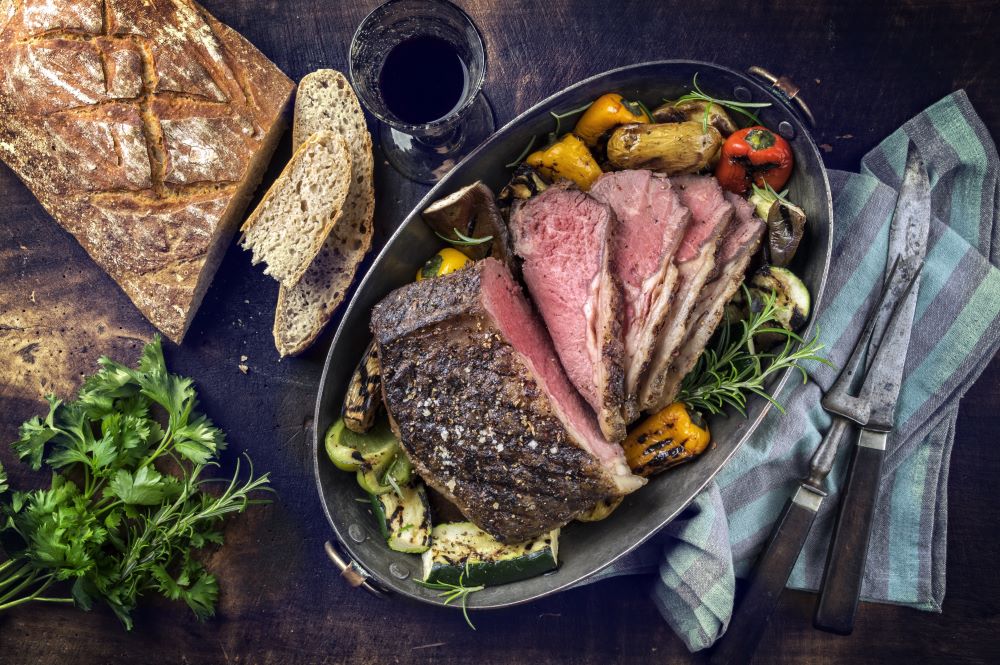 Ingredients:
Soy Marinate
1 cup (250ml) light soy sauce
1/4 cup (55g) brown sugar
1 tbsp Worcestershire sauce
1/4 cup (60ml) sushi vinegar
1 tsp chilli flakes
2 tsp Dijon mustard
1kg Wagyu beef steak
Coriander Relish
1 bunch coriander leaves, chopped, plus extra sprigs to serve
1/4 cup (60ml) sunflower oil
2 tbsp lime juice, plus lime wedges to serve
1 long red chilli, seeds removed, chopped
1 tbsp fish sauce
1 tsp grated palm sugar or brown sugar
Method
Combine the soy, sugar, Worcestershire sauce, sushi vinegar, chilli and mustard in a shallow, non-metallic dish, whisking to dissolve the mustard, then season with sea salt and freshly ground black pepper. Add the beef and marinate in the fridge, turning once, for 1-2 hours.
Preheat the oven to 180°C and preheat a chargrill pan or barbecue to high.
Grill beef for 2-3 minutes each side until charred. Transfer to a baking tray and roast for 10-12 minutes for medium-rare or until cooked to your liking. Loosely cover with foil, then rest for 10 minutes.
Meanwhile, for the relish, combine the chopped coriander, sunflower oil, lime juice, chilli, fish sauce and sugar in a bowl, stirring to dissolve sugar. Add any beef resting juices to the relish and stir to combine.
Slice the beef across the grain, then garnish with coriander sprigs. Serve with coriander relish and lime wedges.
(Recipe sourced and adapted from taste.com.au)