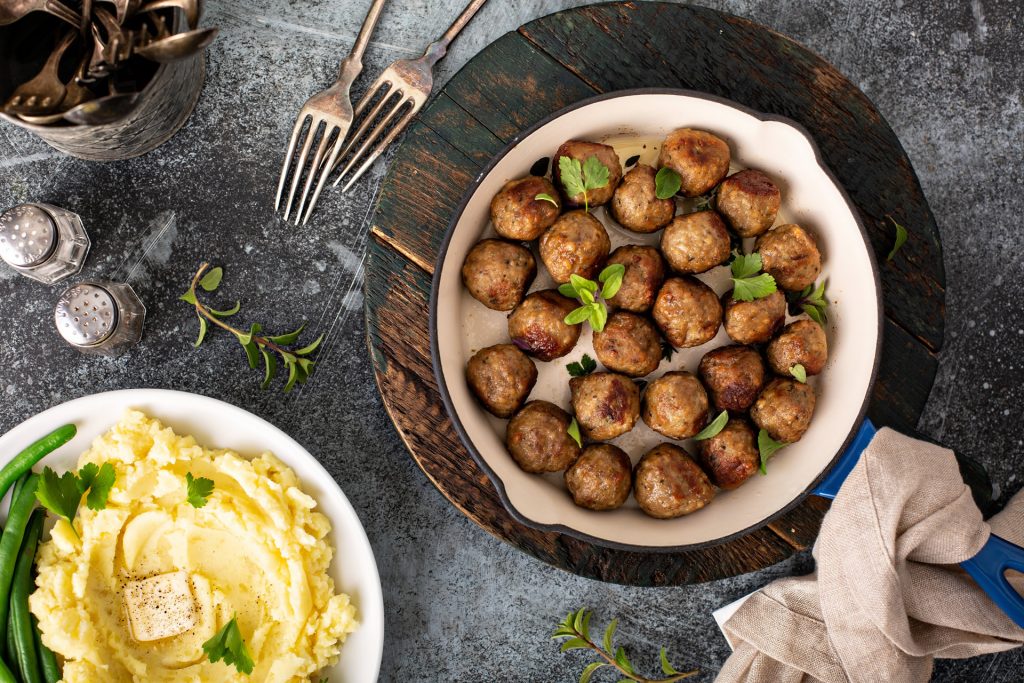 Ingredients:
1/2 cup fresh breadcrumbs

3/4 cup thickened cream

250g pork mince

250g beef mince

1/2 brown onion, finely chopped

1 egg, lightly beaten

1/2 cup cold mashed potato

1/4 tsp ground allspice

1 tbsp extra virgin olive oil

30g butter

1 1/2 tbsp plain flour

1 1/2 cups beef stock

3 tsp worcestershire sauce

1/4 cup cranberry sauce, to serve

Steamed green beans, to serve

Extra mashed potato, to serve

2 tbsp fresh dill sprigs
Method:
Combine breadcrumbs and 1/4 cup cream in a bowl. Stand for 5 minutes. Add mince, onion, egg, potato and allspice. Season with salt and pepper. Mix well. Roll 2 level tablespoons of mince mixture into balls.

Heat oil in a large, deep frying pan over medium-high heat. Cook meatballs, in batches, turning, for 4 to 5 minutes or until browned all over. Drain on paper towel.

Melt butter in pan over medium heat. Add flour. Cook, stirring, for 1 minute or until mixture bubbles. Gradually stir in stock, worcestershire sauce and remaining cream. Bring to the boil.

Return meatballs to pan. Simmer, stirring occasionally, for 5 to 7 minutes or until meatballs are cooked through and sauce has thickened. Serve with cranberry sauce, beans and extra mash. Sprinkle with dill.
(Recipe sourced and adapted from taste.com)