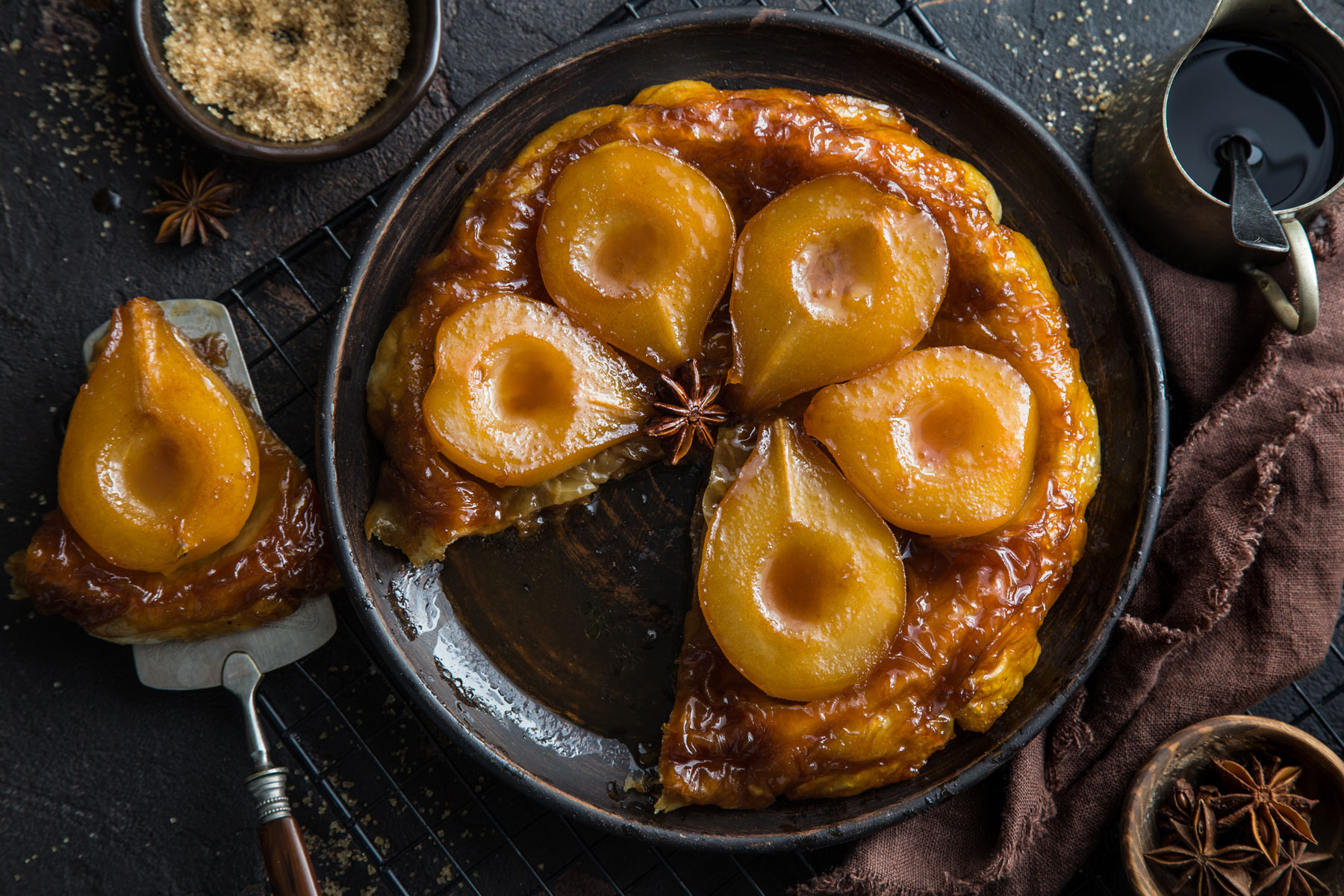 Ingredients
2 eggs
1/2 cup (110g) caster sugar
30g brown sugar
30g plain flour
Finely grated zest of 1/2 lemon
Juice of 1/2 lemon
1 vanilla bean, split, seeds scraped
125g sour cream
25g unsalted butter, melted, cooled
1 pear, cut into 2mm slices
1 tbs pure icing sugar
1/4 cup (60ml) maple syrup
BROWN SUGAR PASTRY
1 cup (150g) plain whole meal flour
100g cold unsalted butter, chopped
55g brown sugar
2 egg yolks
METHOD:
For brown sugar pastry, place flour, butter, sugar and a pinch of salt flakes in a food processor and whiz to fine crumbs. Add yolks and pulse until mixture begins to clump. Turn out onto a work surface and shape into a disc. Enclose in plastic wrap and chill for 1 hour to rest.
Preheat oven to 200°C. Roll pastry out on a lightly floured work surface to 3mm thick, then use to line base and side of a 23cm loose-based tart pan, allowing pastry to overhang. Chill for 30 minutes, then trim excess pastry. Line with baking paper and fill with pastry weights. Bake for 15 minutes or until light golden brown on the edge. Remove weights and baking paper, and bake for a further 10-12 minutes or until pastry is golden and dry. Cool completely. Reduce oven to 160°C.
Whisk eggs, sugars, flour, lemon zest and juice and vanilla seeds in a bowl until smooth. Whisk in sour cream, 1/3 cup (80ml) water and butter (the batter will be very liquid at this stage). Pour batter into pastry case. Arrange pear slices, slightly overlapping, on top. Dust with icing sugar and bake for 40-45 minutes or until set with a slight wobble in centre. Cool to room temperature, then chill until cold.
Place maple syrup in a small saucepan over high heat and cook for 2 minutes or until reduced and thickened. Pour over tart. Cool, then cut into slices to serve.
(Recipe sourced & adapted from delicious.com.au)