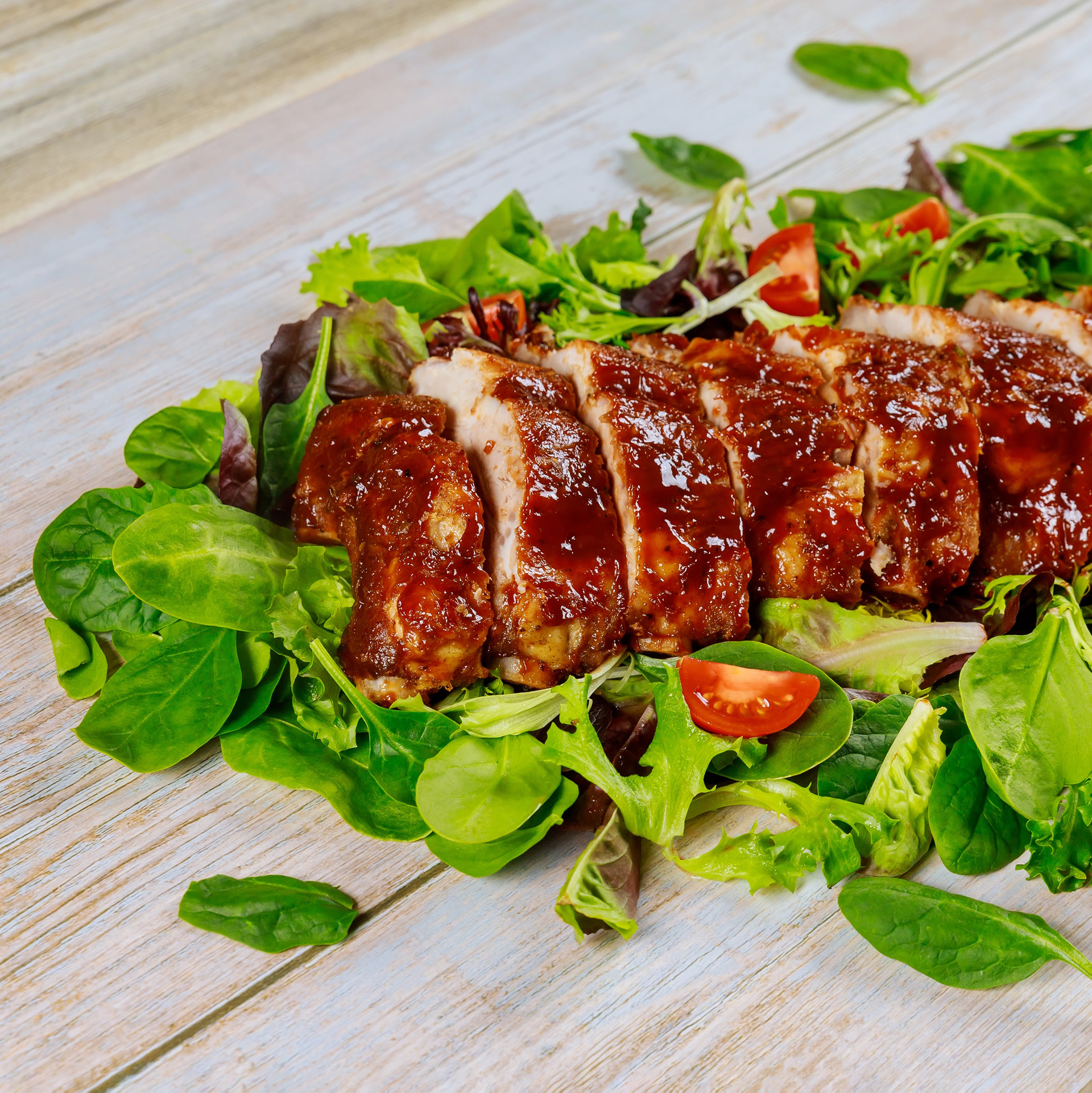 Ingredients
500 g piece of pork tenderloin, trimmed
olive oil
18 small corn tortillas
2 limes
Marinade
2 red onions
6 cloves of garlic
2 dried chipotle chillies
1 ancho chilli
½ a bunch of fresh coriander
1 teaspoon ground cumin
½ teaspoon sweet smoked paprika
3 sprigs of fresh thyme
2 tablespoons red wine vinegar
1 tablespoon tomato purée
2 tablespoons dark brown sugar
½ an orange
Rainbow Salad
1 corn on the cob
¼ of a white cabbage
2 tablespoon white vinegar
6 mixed radishes
2 carrots
3 little gem hearts
Avocado Salsa
2 ripe avocados
1 fresh green chilli
2 spring onions
½ a bunch of fresh coriander
1 lime
extra virgin olive oil
Method
First, make the marinade. Peel and chop the onions and garlic.
Heat a splash of oil in a pan over a high heat, then cook the onion and garlic for 10 minutes, or until softened and starting to colour.
Meanwhile, soak the chipotle and ancho chillies in hot water. Pick the coriander leaves and set aside, then finely chop the stalks.
Drain and chop the chillies, then add to the pan with the coriander stalks, cumin, paprika and thyme. Cook for 5 more minutes.
Stir in the vinegar, tomato purée, brown sugar, orange zest and juice, a pinch of sea salt and black pepper and 400ml of boiling water.
Bring back to the boil, then reduce the heat and simmer for 15 minutes, or until glossy and thick.
Allow the mixture to cool, remove the thyme stalks, then blitz in a food processor until smooth.
Place the pork in a snug-fitting roasting tray and pour the marinade over the top, submerging the pork. Marinate for 4 hours or preferably overnight.
Preheat the oven to 220°C.
Remove the pork from the marinade, brushing off any excess, and transfer the mixture to a saucepan for later. Return the pork to the roasting dish and roast in the oven for 8 minutes, so it forms a lovely gnarly crust.
Reduce the oven to 160°C and cook for 5 to 7 more minutes, or until the pork is tender and slightly pink in the middle.
Cover the pork with tinfoil and set aside to rest for 10 minutes.
Put the pan of marinade on the hob, adding in any juices from the pork. Let the mixture reduce over a medium-low heat for 10 minutes, or until sticky and delicious. Add 2 to 3 tablespoons of oil for a glossy sauce.
To make the rainbow salad, soak the corn for 10 minutes, then drain and cook in a pan of unsalted boiling water for 10 minutes. Remove and leave to cool.
Finely shred and place the cabbage in a bowl with the vinegar and a pinch of salt, then scrunch it all together.
Cut the cooled corn kernels from the husk, thinly slice the radishes, then peel the carrots into ribbons with a speed-peeler. Cut the lettuce into wedges. Add the veg to the cabbage mixture and toss well.
Make the avocado salsa by scooping out and mashing the avocado flesh. Finely chop the chilli (deseed if you like) and spring onions, then roughly chop the reserved coriander leaves.
Mix all the ingredients in a bowl with the lime zest and juice and enough oil to get a texture you like.
Warm the tortillas in a dry frying pan or in a foil parcel in the oven at 170°C for 6 to 7 minutes.
Slice the pork thinly, pile on a platter and drizzle over any juices. Serve with the warm tortillas, rainbow salad, salsa, reduced sauce and lime wedges.
(Recipe sourced & adapted from jamieoliver.com)