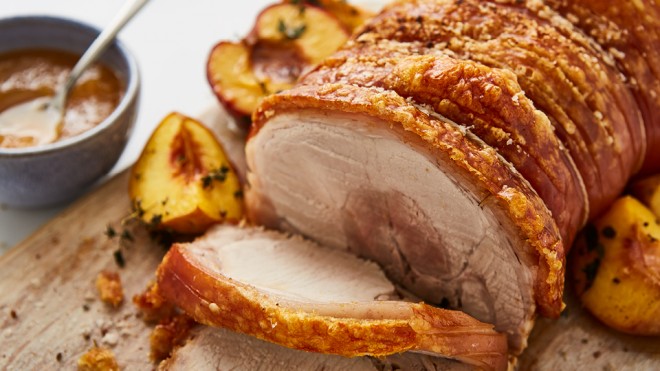 Ingredients:
500g pork loin roast
1 to 2 teaspoons olive oil
Coarse sea salt and freshly ground black pepper
Method:
Preheat the oven to 250°C. Line a rimmed baking sheet or shallow roasting pan with foil.
Pat the pork with paper towels until completely dry. If your pork loin has skin attached, using a sharp knife, score the skin by making deep, long, parallel cuts, 2cms apart, in the fat, being careful not to cut through to the underlying pork. 
Rub the pork all over with the oil and then sprinkle the top with a generous amount of salt and pepper.
Place the pork on a wire rack, skin or fat side up, and place on the baking sheet or in the roasting pan. Roast for 25 minutes. (The initial high temperature promotes crisp crackling, which is the skin.)
Reduce the oven temperature to 180°C and roast until cooked through, 40 to 45 minutes longer, rotating the pan once halfway through to ensure even cooking. The meat should be slightly pink in the middle. You may need to adjust the cooking time, depending on the weight of the pork roast. Rest assured, the pork will continue to cook slightly after it's removed from the oven.
Place the pork roast on a warm platter and let it rest in a warm place for 10 to 20 minutes before carving. Don't cover the roast as any steam coming from the resting pork will soften the skin, which will have crisped into "cracklings." And you don't want to lose that!
If you're the sort who prefers extra-crisp cracklings, while the pork roast is cooling, remove the entire portion of skin from the pork loin, cover the pork loin with foil, and place the skin on the baking sheet or the roasting pan and either crank the oven to 220°C and give the cracklings a quick while the pork rests.
To carve the pork roast, remove the skin, if you haven't already done so, and cut the crisp pork skin into strips. Carve the pork roast across the grain into slices, arrange them on a platter, and there you go. Enjoy!